Commercial photography is critical to the branding success of any organization.
Commercial photography creates essential visual content for a business or organization.  The vital need for a business to stand out visually in any branding effort is a trend that will only continue, and it only becomes more profound in younger consumers.   In this recent article from INC. Magazine, the following statistics on visual marketing stand out dramatically.
The average person gets distracted in eight seconds, though a mere 2.8 seconds is enough to distract some people.
81 percent of people only skim the content they read online. (Usability expert Jakob Nielsen has written that the average user reads at most 20 to 28 percent of words during an average visit.)
People form a first impression in a mere 50 milliseconds.
An estimated 84 percent of communications will be visual by 2018.
Posts that include images produce 650 percent higher engagement than text-only posts.
Tumblr's active user base has grown by 120 percent.
Pinterest's active user base has grown by 111 percent.
Instagram's active user base has grown by 64 percent.
It's clear that the future of marketing and branding is image-based more so than text-based, and you have a very small window of opportunity to capture the attention of your audience with the graphic content you do choose to use, so you need to get their attention and get it fast.
 Commercial Photography, A Full-Service Production Company
Commercial Photography is our passion, and we serve the visual content needs of clients both large and small, with clients ranging from national brands like Hard Rock to local small businesses, political campaigns and non-profit organizations.   We have the ability to travel, and field a full service production team that delivers high quality, creative branding content for any project – on time, under budget and with unique attention capturing imagery, custom to your brand.
Consultative Approach
Our commercial photography services can accommodate anything from website digital art to wall murals and stadium graphics.   Conceptually, we can plan out an elaborate commercial photography scene with a specific branding theme, or we can deliver simple yet elegant headshots and editorial/lifestyle photography showing your organization's leadership and staff doing what they do best: creating, selling, servicing.
We start with a free consultation at out office, your office or via Skype, telephone or whatever interface you prefer. Prior to the meeting, we will review your online website and social media hubs – as well as any available advertising and marketing media.  We will then conduct an professional audit of your current visual content.
Among the things we review are:
Quality – are the images and graphics of professional quality, with sharpness, lighting, retouching and color grading that present the content appropriately from a technical point of view.
Consistency – Are the leadership portraits, team group photos, physical plant photos, product photos, etc. all consistent in their quality, setting and style? Are they cropped the same?   Are they lit similarly and shot in similar settings?
Current – Are they current photos? Will someone pictured on the website still look like they person your client will meet in real life?
Message – Does the existing visual content convey a resonant message on target with the mission and target demographic?   Is it telling a story, and more importantly is it telling the right story?
Presentation – Style matters when you are talking about visual content.   Is the presentation going to set a hook or not? How the message or product is perceived by the viewer is the only thing that ultimately matters. You could have perfectly technically excellent visual content, but if it's off point and doesn't emote and sell something, it won't matter.
Needs Analysis
During our free consultation with a potential client, we take the time to learn about them. We discuss their mission, who their target market is and what they want to achieve before we ever discuss our visual content edit or pitch ideas.
Every client is different and we believe that the only way we can truly help their organization grow and brand themselves more effectively is to understand what it is that makes them different.     That difference is the critical component to build a visual content plan around.
Commercial Photography Programs
Only when we feel we know our client's branding needs do we pitch a series of scalable, integrated and cross-branded visual content concepts targeted at achieving those goals.   Some of these elements may be incredibly simple and basic while others may require a production team and a detailed shoot list.
Examples of our services include:
On location head-shots & physical plant office shots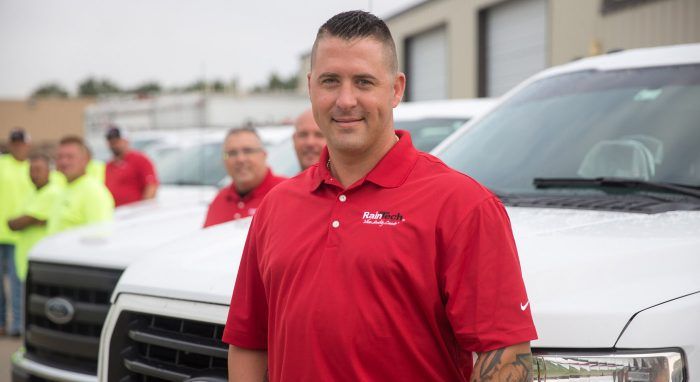 These images are lightly edited (no Photoshop or retouching) digital masters with usage/print release).   These are the most basic visual content needs. This is lightly produced content showing simple concepts. It is however, always razor sharp, properly exposed and attractively lit in an appropriate composition and setting.
On location or in-studio professional portraits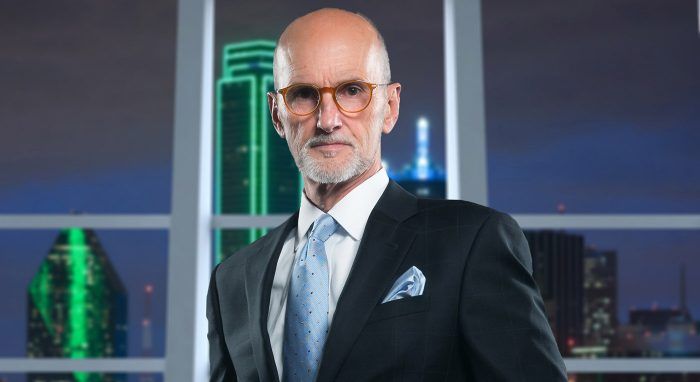 These are custom headshots, fully edited portrait digital master with usage/print release.   These images receive portfolio quality retouching and satisfaction is guaranteed.   Our editing/retouching is guaranteed to preserve the hard earned wisdom and experience while removing unwanted blemishes, shadows and lighting issues etc. and can be dialed in to fit any client's specific request. We teach retouching and Photoshop classes to other photographers and are very good at it.
Team Composites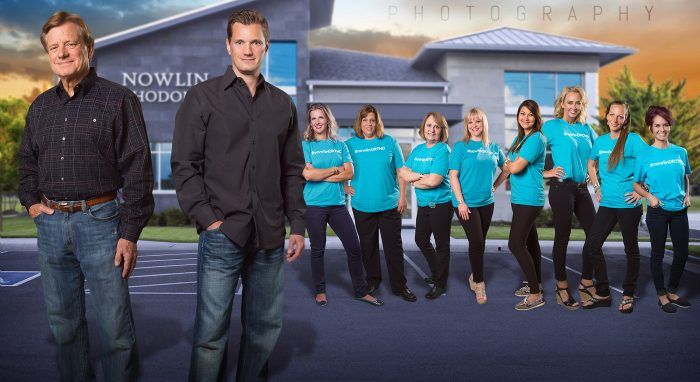 A modular team composite for your website which can be updated with staff changes and even repurposed into a seasonal card to send to clients.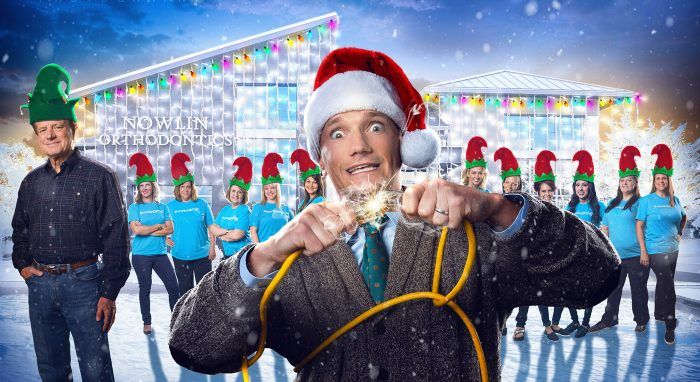 A composite is a combination of two or more previously unrelated images. For example, if we shoot a client in our studio and then "Photoshop" them into a street scene, that is a composite.
Our team composites are ideal for the small to mid-size company who needs to present an image of their friendly, welcoming staff on their website or in printed materials, but faces some degree of transitional turnover making up to date team photos difficult and expensive to maintain.
These modular Photoshop documents allow for easy updating of team photos as team members turnover – without requiring the full team for updates.   We shoot one person at a time, and backgrounds/settings can be updated and changed as well.   These are studio portraits which are edited, extracted in Photoshop and set beautifully and believably into photo-realistic OR purposely surreal custom digital environments.
This file can be updated with the removal of departed team members, and/or the shooting editing and compositing of new team members, updating backgrounds, and delivery of updated master file after any updated revision.
Product Photography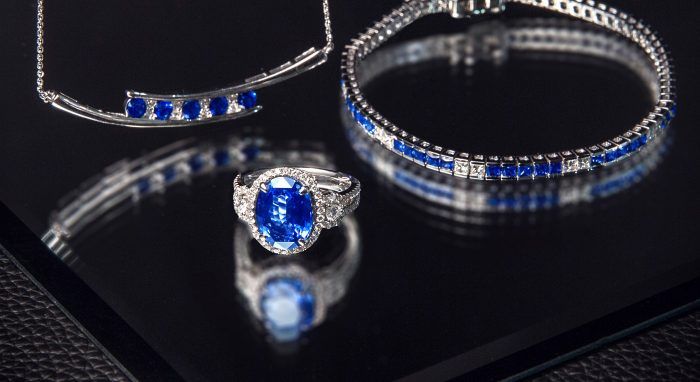 This may be clothing, cars, jewelry, food and so on. We can shoot and produce any kind of product photography.   Often these are great insets components for ad campaign productions, or stand alone advertising materials on their own.
Commercial Advertising & Marketing Photography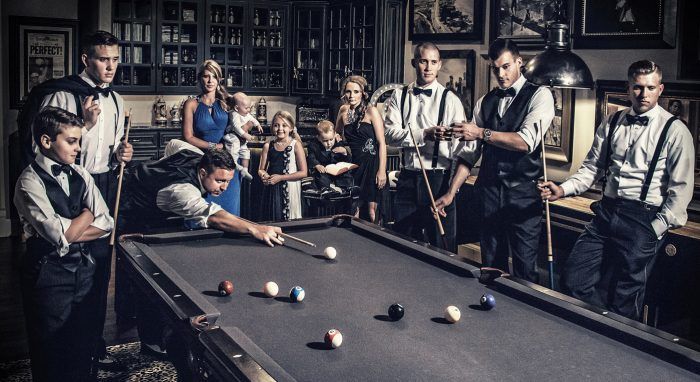 Advertising campaign art, Magazine cover art, Magazine ads, Website branding art,   These are highly produced scenes shot and produced by our team of photographer(s), set designers, makeup artists, food preparation specialists, models and production professionals.   These dynamic projects can include storyboarding, staging, shooting, and editing specific cinematic scenes featuring talent using product or engaging in branding activities.    These are full service, print ready, national ad campaign ready, commercial photography branding scenes.   And we deliver them in house, from concept to final artwork.
We work directly with ad agencies, marketing agencies, PR firms and in-house client art and marketing teams in cities all across Oklahoma, Texas, Alabama, Kansas, Missouri and Arkansas  to create commercial photography branding campaigns.  Please contact us today for a free consultation and see what Shipman Photography can do for your brand.
See our commercial photography portfolio HERE.
Check out our blog page for our series on commercial projects HERE.
Pitch Presentation Sample
Production Reel from our 4 day commercial photography project at the Hard Rock Casino & Hotel in Tulsa, Oklahoma.