Welcome to our senior guys style guide blog for the class of 2020!   Having shot Tulsa Oklahoma area senior portraits for 16 years, there are a lot of questions we get asked pretty frequently by new senior clients regarding what to wear, where to shoot and so on.    
When we first started out, we tried to avoid strong opinions or suggesting wardrobe direction because the focus has always been on having our clients "be authentic" during their shoots – meaning, wear what you would normally wear.    Well…  sometime's that's a good plan, and sometimes you guys could use a little help.   So here we are.   Your future you will thank us some day.
Being yourself actually is great advice, because who knows your style better than you?  Still…  As we've seen our portfolio evolve and our client list grow, we've developed some opinions on what direction to go with style and wardrobe depending on not only your personality, but where we are shooting, what time of day etc.   This is an important component of our free consultation that we conduct with every senior portrait client before we even book their sessions.   
These consultations are all about helping us get to know you (or your senior).   Location is going to make a big difference in style choices, so as we get to know a client and their personality and preferences, it becomes clearer how to plan their session(s).  Different themes, time of the year, personalities etc. all can be factors in figuring out your style for your shoot.  We will work through all that with you and with your parents so you know what to wear and we know how to shoot it.
Once we have a plan and it's time for your session, the first thing to do is pay attention to personal grooming.  These images are going to be on your family's wall for the rest of their lives, so the first piece of advice would be to avoid any look that's too trendy, temporary and tied to something that isn't going to age well.   I mean… be you, but be the you that your own kids won't be making fun of in 20 years.      Fellas, that includes facial hair.  If you can grow it and it looks good, go for it.  If it is thin, scraggly and looks like you are trying too hard, it won't age well.  Shave that bad boy off.   If your mom hates it, shave it off.  I'm not gonna make you shave it, but these pics are for her, so keep that in mind.
Next, get to your favorite hair stylist or barbershop and get that do dialed in the way you like it.     Again, think long term.  Some of you guys may play sports on teams that have a team "look."  For example, every year when Bixby football makes the playoffs, more than half the guys get blonde mohawks.    Now, while that may actually be a GREAT look for your football themed stadium session, maybe not the best look for your downtown Tulsa session.  Plan ahead.  Do the GQ stuff early on, and the sports stuff later in the year if that's a concern.  We will work with you.   
Things to consider (wardrobe):
1. Dress for the season and weather.   Few things are more miserable than being stuck on a 90 minute photoshoot freezing to death or sweating through your clothes because you didn't check the forecast when you left the house.      
2. If you want to bring a change of clothes, keep two things in mind.   First, you'll have to change in your car (or my truck if that's easier), or a bathroom along the way depending on where we are for your session work.   Second, I schedule all of my on-location shoots in the "golden hour" 60-90 minute window before sunset.  When the light's gone, it's gone so any time you spend changing clothes is less time we can spend taking killer shots of you.   I usually recommend a guy either stick with one look for one session location, or at most, bring one change of clothes.  Plan accordingly! 
3. Seems obvious but make sure your clothes fit.   Guys at this age have gone through all kinds of physical growth over the last couple of years most of the time, so just because that suit fit last summer at your cousin's wedding doesn't mean it still does.   Try it on and make sure.  If you need alterations, consider getting those done ahead of your senior portraits.  Same goes for anything else you are planning to wear.
4. This seems obvious but it's happened far more often than you might believe…  if you are wearing slacks, DO NOT WEAR WHITE SOCKS.   Seriously…   Yes, I can fix them in post production.  No, I do not want to.   Please wear dress socks that go with your slacks.   
5. Last thing.    Shoes and Belts, match them.  I've had to change a lot of those in post production too and it's just better if you make sure they match.   
Things not to worry about:
1. Acne outbreaks.   This is the best retouching (photoshop) studio in Oklahoma.  There's no blemish, we can't fix.   It happens.  Go with it.  
2. Extreme weather.   I don't want to shoot in 114 degree or 20 degree weather any more than you do.    Same goes for rain, extreme wind and so on.  We always factor a plan B into our schedule and finding a new date is always OK. 
A typical senior for us will have two to three distinctly different settings to work with.  A common example would be 1) Athletic facility, 2) Downtown Tulsa, 3) Studio session.  In our case, we do not charge extra for these split sessions.  Our goal is to shoot everything you might like to see and not nickel and dime you along the way.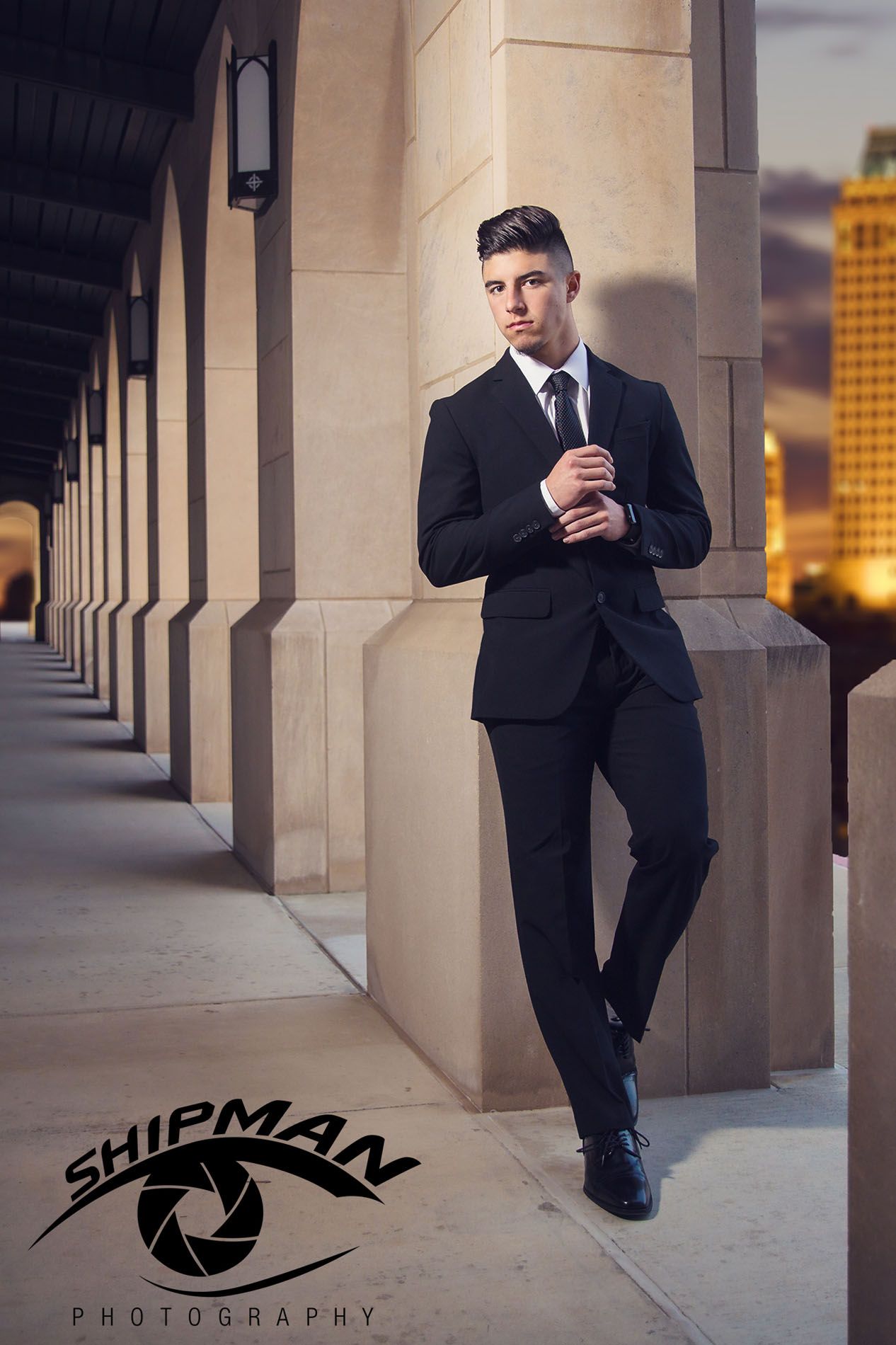 Let's take a look at styling each of these types of sessions.   
Since we work with so many athletes, on campus athletic facilities like football fields, basketball arenas etc. wind up being part of the plan.   During these sessions, the idea is usually a more casual homage to their sport.   T-shirt and jeans with a ball or letter jacket is a classic look that never goes out of style.   Full uniform shoots or logo practice gear are also options for these shoots, but sometimes that's best saved for the studio.
Downtown Tulsa is a very popular option for a primary portrait session.   And this is really what this article is about.   Suit or no suit?  That's a super common question, and since I don't like wearing suits myself, I usually advised my seniors to wear whatever they would normally wear if they were going to a nice event downtown.   That can still be good advice, but to be honest – I think mixing in at least a sports coat is a must for a downtown session.    Weather that means a full suit and tie, or a simple button down shirt with jeans – the sports coat is a good look when shooting downtown.
Now, maybe you aren't a downtown kind of guy.    Shooting on family property, at a lake, out in the country, you name it – we've done it.   And as far as style goes for stuff like that?  Definitely be yourself.    Even if that means a backwards hat and a fishing pole.    There's a time and a place to dress up in a suit, and the fishing hole is not that place.    
For one thing it gives you a stylish urban look to match the environment.   It also gives you a fantastic styling prop that opens up a bunch of really cool posing options. 
In fact, we've had a couple of guys opt for tuxedos.
As far as ties go,  only if you are wearing a full suit.   
Lastly, the studio sessions are a wild card.   The magic we can make with our studio options is absolutely limitless and can be utilized to create sports themed cinematic scenes that would look at home in a Nike ad, or we can drop you in another city with your suit.    That really is a very customizable part of our session work, and what you wear really depends on what we are shooting for. 
Bottom line guys, we want you to look your best.  If you look good, we look good.  I always take a photo assistant on shoots with me to keep an eye out for good posing ideas.   Along the way we get to know you and joke around with you.   We keep it light and fun, and make sure you have a good time.   We never put you in weird, awkward poses that aren't you.  My goal is to make you look cool, and feel like you look cool.     
There aren't many senior portrait studios who specialize in guys, but we are one who does.   Come see the difference!