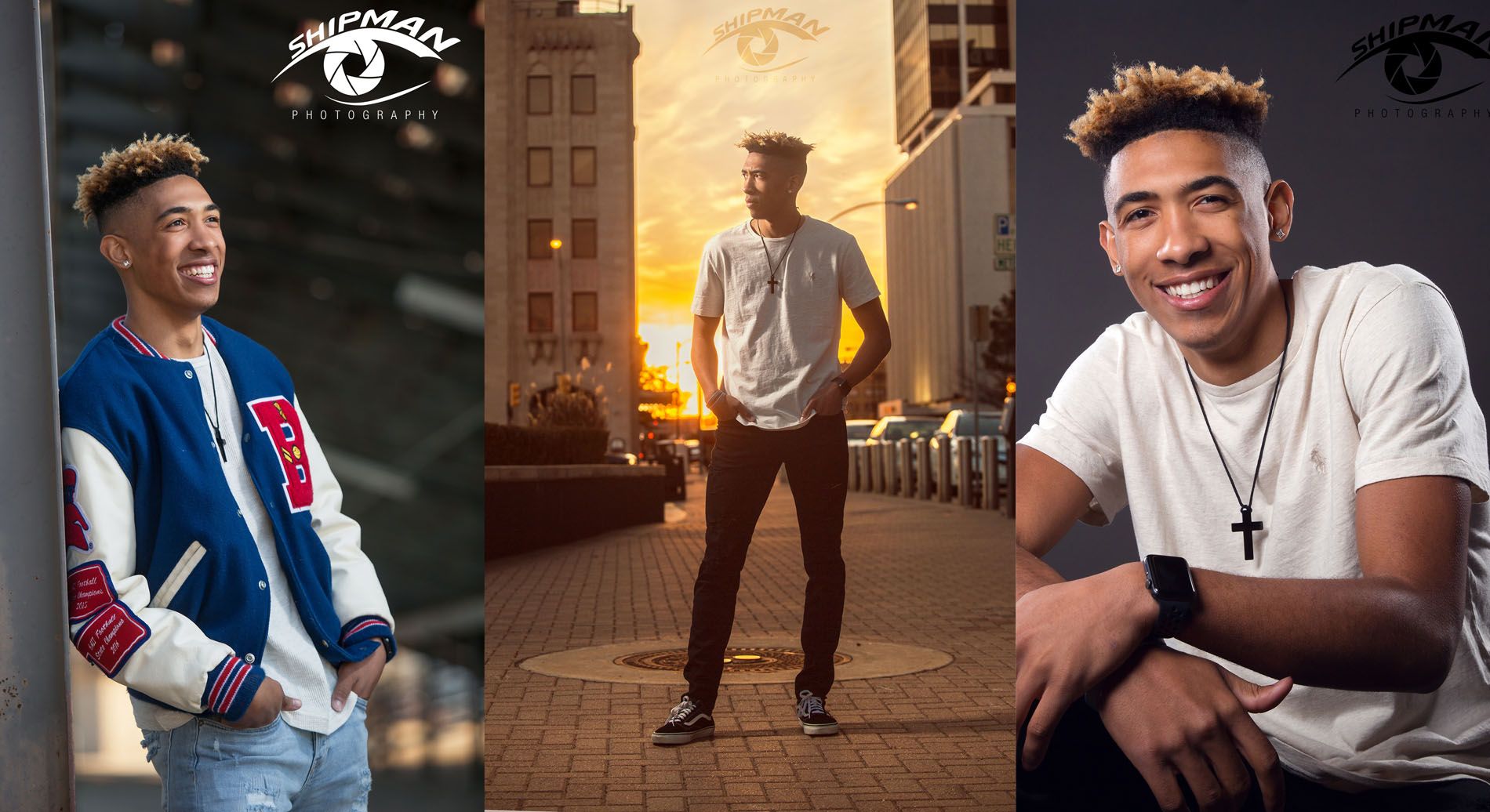 A large part of our client base involves Bixby senior portrait sessions for athletes.   Bixby is our home market, having had three teenage girls in school there at the same time.   Today we feature one of our Bixby athlete high school senior portrait clients, Kordell Tyler.
New for 2018, we are kicking off a new content feature for our website – blog posts for our senior portrait client sessions.   At Shipman Photography, we shoot a limited number high school senior portrait clients in the Tulsa Oklahoma area. We have a great time getting to know these awesome kids and learning about their stories, their ambitions and their interests. These sessions always give me an opportunity to try out new dad joke material and to provide awesome senior portraits for our clients, so hopefully you'll enjoy learning a bit more about the stories behind the pictures we create for these great young men and women.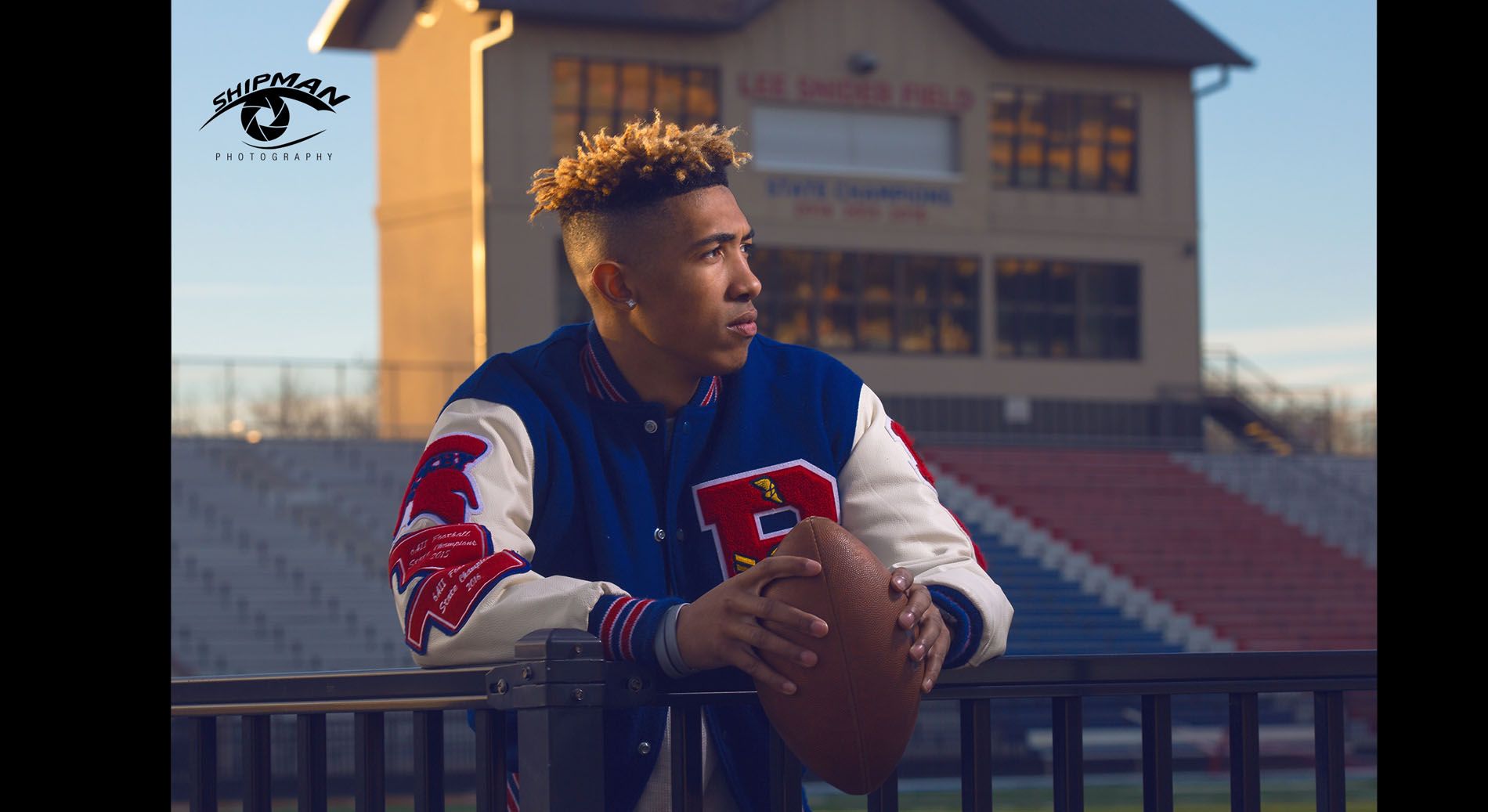 Kordell, like many of our clients, is an excellent athlete who was a receiver on the 2017 Spartan football team. Kordell's athletic future however is likely in track and field, as he is a standout sprinter who competes in the 100 and 200 meter events and is already gaining some college interest.
As with many of our clients, our plan for Kordell needed to include an homage to his athletic career as well as a more traditional portrait plan, so we picked out two back to back evenings which thankfully were unseasonably warm. The first evening we would shoot on campus at the Bixby High School football field. As I rolled up to the familiar Snider Field, there was Kordell along with fellow Spartan receivers Zach Riddle and Sam Sherman.     Zach is also a senior portrait client and I made sure to get some digs in on him as he and Sam were playing catch – noting that now 'I see why he's a receiver' after an off target pass, because I'm a dad and I love dad jokes.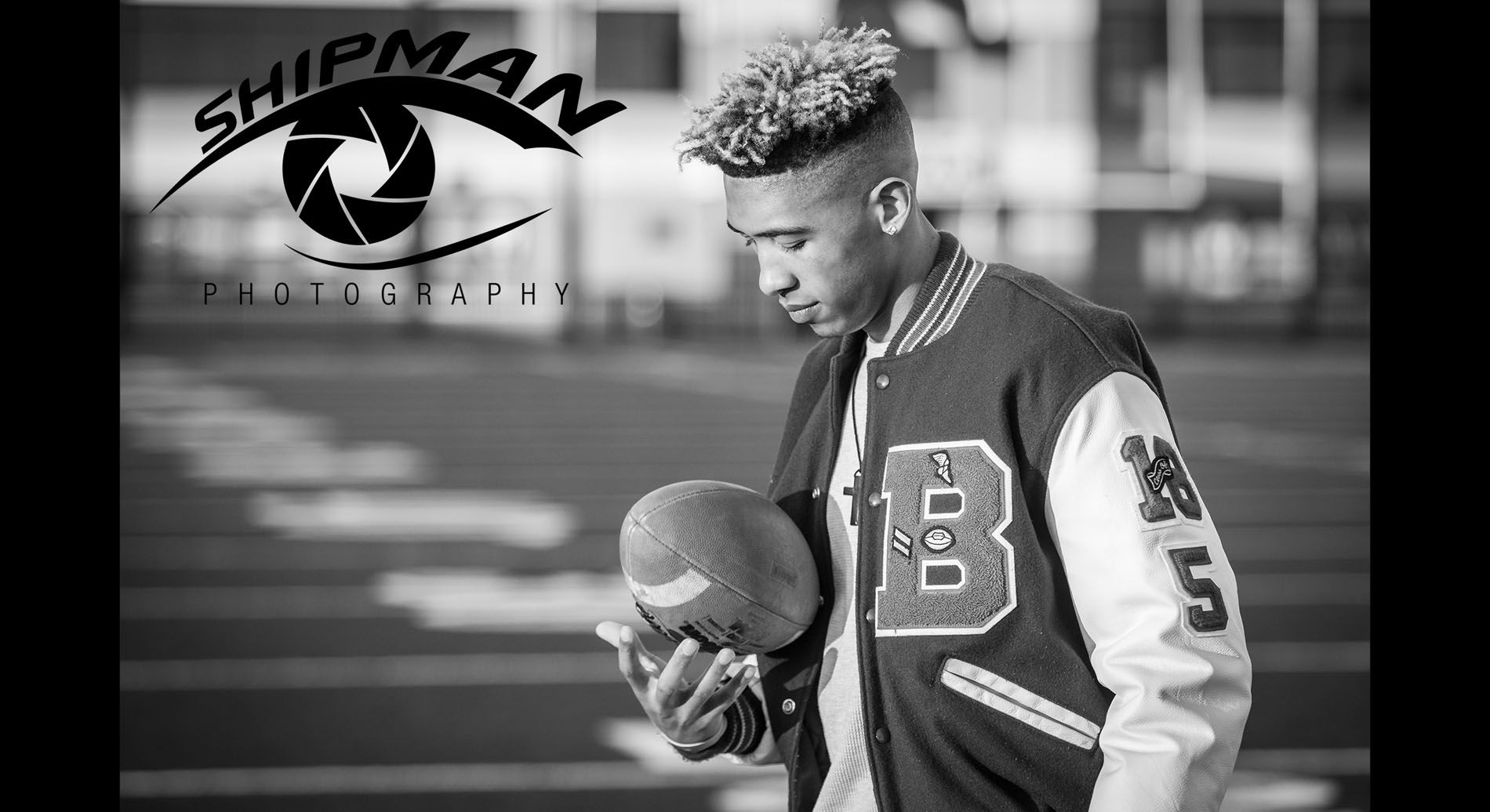 A few minutes later I had the chance to either back up my comments or get some thrown back at me when I ran downfield and called for a pass (because I was wide open) – well this time Zach hit me in stride on a 40 yard strike and fortunately I made the over the shoulder catch, before throwing a tight spiral back to him. If that impressed them, I'm sure me being winded from the effort did not, but I digress…
Back to work with our Bixby senior portrait client.   A stadium session consists of a good mix of staged and candid shots. As former athletes know, you miss it when you aren't doing it anymore – so these shots are really tied to the idea of a career retrospective. The next time these guys come to this field, they'll have to buy a ticket to see the game like the rest of us, so these are really powerful scenes for these players and their families.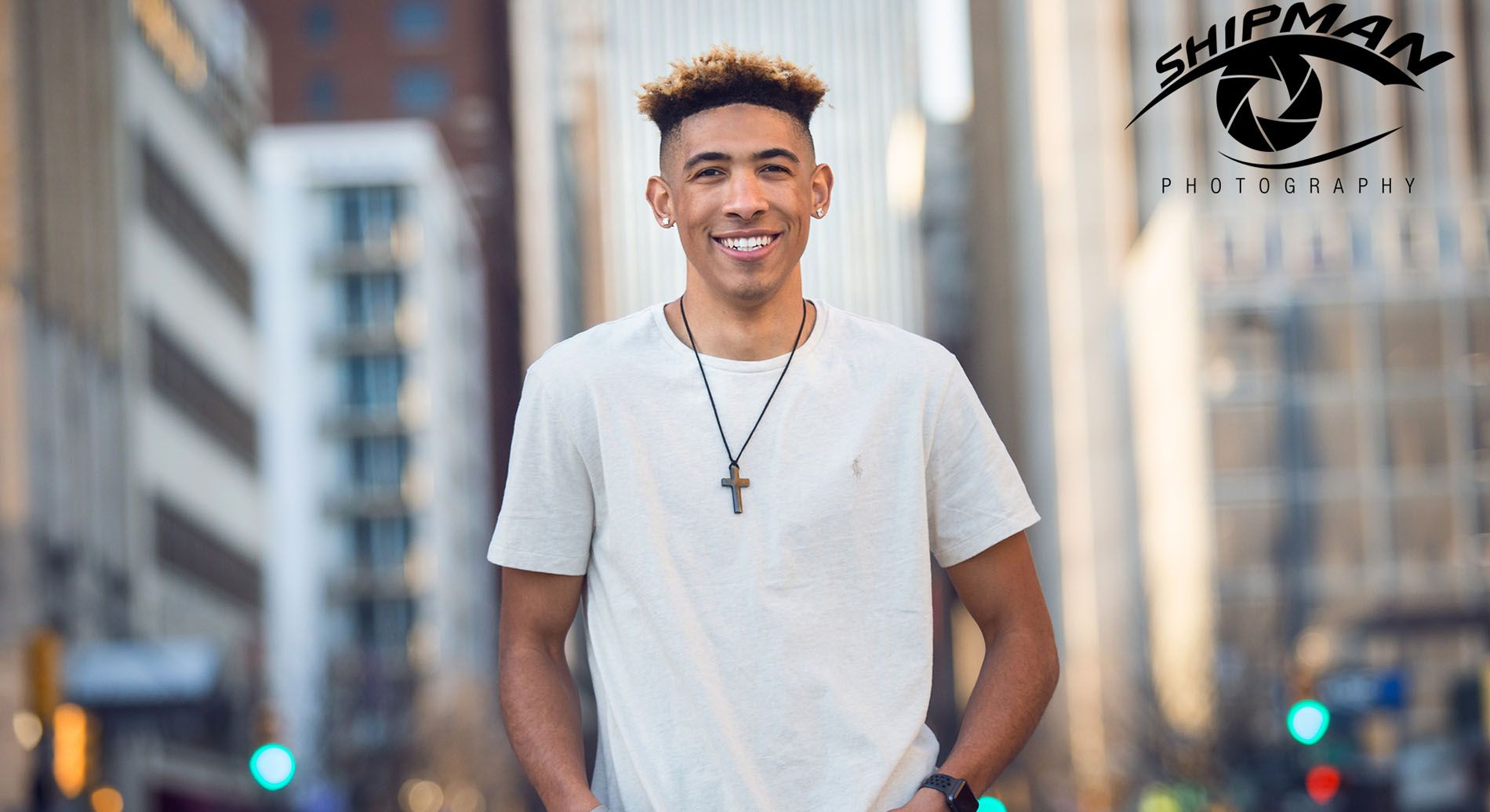 The next night, we shot our Bixby senior portrait client in nearby downtown Tulsa, where we had a great time on another beautiful winter evening discussing college plans and life goals as we walked with me shooting pics and Kordell politely enduring my dad jokes.   Turns out Kordell watches HGTV a lot and thinks he has a future in real estate flipping, and has decided that a business management major sounds like a good idea. I had to agree.
After wrapping up downtown, we headed back to Shipman Photography's posh midtown studio for some cool "edgy" black and whites with his track medals.   After two days, we had amassed 227 images for me to look through and prepare for he and his family to see.   As with most of our sessions, getting rid of the first 20 pics is pretty easy, but getting that number down to about 100 proofs to show is HARD, but that's a good problem to have.
Thanks so much to Kordell and his mom for their business! Hope this gives you some insight into our senior portrait process and how we try to customize every single client's experience.   Kordell assured me he had a lot of fun with it, and even had to admit he liked my dad jokes, which of course only encourages me to keep telling them.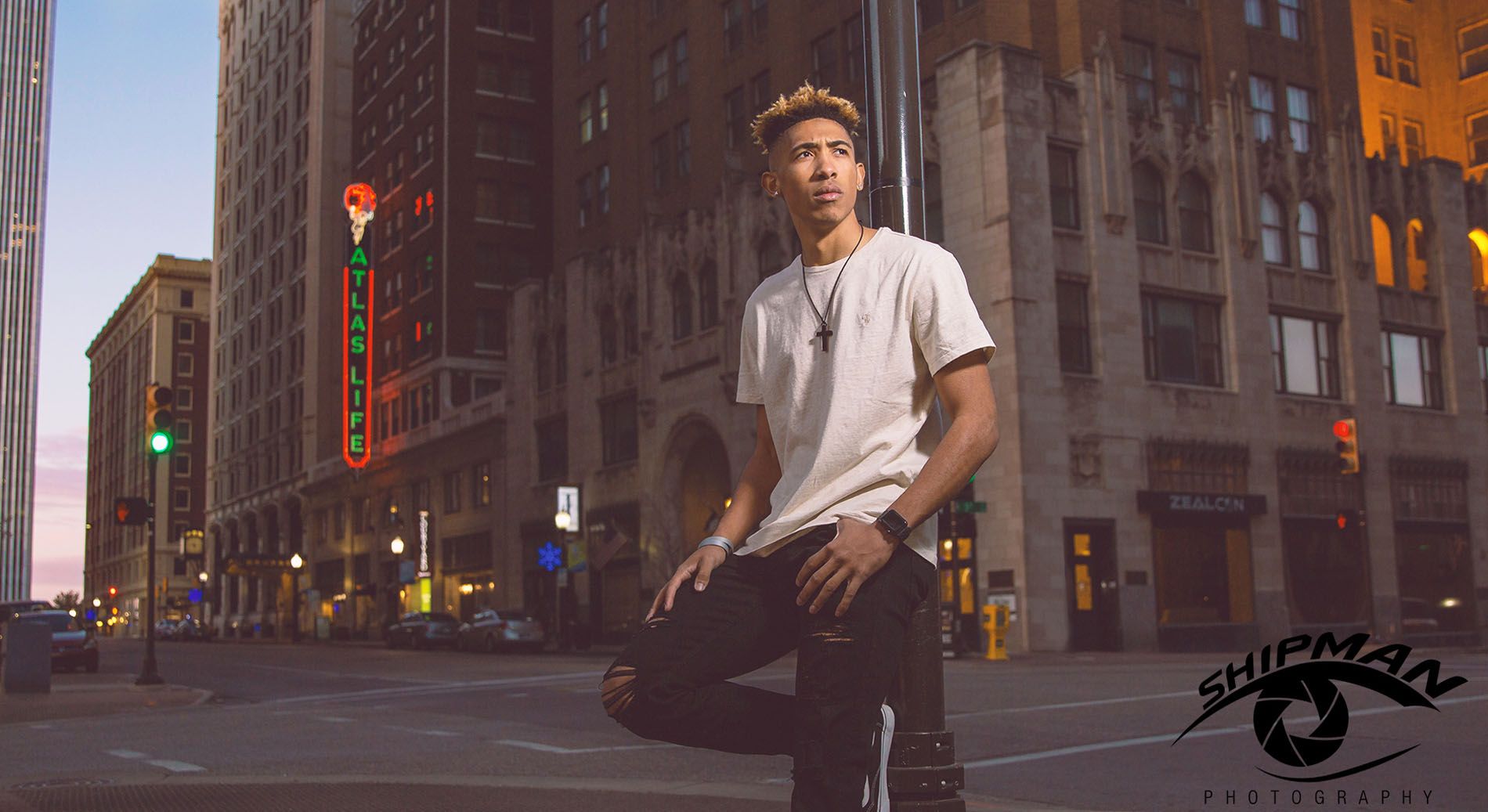 This is a pretty typical session experience for a Bixby senior portrait Shipman Photography senior picture client,  or from several other schools in the Tulsa, Oklahoma area.
Kordell had several things that were important to him like his track medals that we wanted to feature in our studio session, while allowing time to pay homage to his football career and get some slick urban portraits in downtown Tulsa.   Thanks Kordell, it was fun!
Read more of our senior blog content HERE
And visit our Senior Portrait page for more information HERE